Guaidó One Young World Politician of the Year 2019
Guaidó was chosen from a list of 20 exceptional politicians
The award was established last year to celebrate the most impressive and impactful politicians aged 35 and under. The 2019 shortlist exemplifies the outstanding achievements of young leaders who have infiltrated the old guard of politics worldwide.
From that list of 20 exceptional politicians, the expert judging panel have selected five honourees, who will be presented with the awards at the OYW Summit 2019 in London, 22-25 October.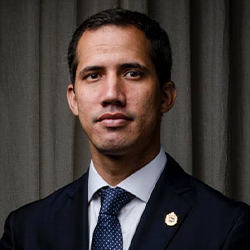 Juan Guaidó, Venezuela
Juan Guaidó is the President of the National Assembly of Venezuela. In January 2019, in the aftermath of the disputed re-election of Nicolas Maduro, he took on the role of Acting President per Article 233 of the Constitution. Over fifty nations recognise Guaidó as the country's legitimate President. He has rallied public protests against the incumbent regime and called for Maduro's removal from office. Guaidó has remained adamant on the need to establish a transitional government, calling for free and fair elections. He is a co-founder of the Popular Will party and has represented the state of Vargas in the National Assembly since 2015.